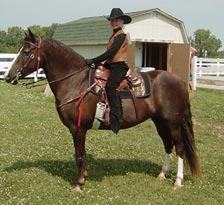 1996 filly, WOODBROOK AMY LYNN
Owned by Bruce Stewart & daughter Devin
(shown up, Second Show & Second Place)


Rider: Devin Stewart
Rider's Age: 10
Horse: Woodbrook Amy Lynn (Baroncrest Nuggeteer x Patoka Pandora) My daughter calls her Pixy (her spelling as well) because she is the smallest of our three horses)
Horse's Age: 7
submitted by: Bruce Stewart
location: Noblesville, Indiana

Devin has been riding around home for a year and a half with no formal training. Devin decided this Spring that she wanted to "show her horse". We enrolled her in the local 4-H Horse & Pony program with the idea that they would compete in the horse & pony show at the local fair, and we would call it a successful show season. Funny how things never quite work the way you plan!

We have been members of the AMHA and the Indiana Morgan Horse Club since I bought my first Morgan two years ago. During this time, we had not participated in any club events, attended any shows, or meetings. We were to busy remodeling the barn, building fences, and just learning how to be horse owners. We squeezed in as much play time with our horses as we could. A few days before the 2003 Hoosier Horse Fair & Expo, I received a call from an IMHC officer asking if I could work the club booth. I accepted the invitation. During my shift, I met several members of our club. As I talked about my daughter and her love of horses, everyone encouraged me to enroll her in the Ethan Allen Morgan Youth Club. I was provided with literature and contact information. I called the number I was given and after exchanging messages I got to talk with a very enthusiastic young woman. We discovered in the course of our conversation that our homes were only three miles apart. She wanted to come over and meet my daughter that evening. I explained that we were just on our way to the barn to take care of our horses for the evening. "Even better", she exclaimed. She came to our barn, met my daughter, explained the youth program and shared some of her own experiences from having grown up in the club. My daughter was sold! Next, she picked up a brush and helped Devin groom her horse. All the while, she was telling me about how she wanted to get Devin involved in the Youth of the Year competition, and about participating in the Indiana Morgan Classic. I informed her that Devin had not received any formal riding instruction, and was far from being ready for a Class A event. Without missing a beat she announced that she would teach Devin what she needed to know. I was blown away on one hand, and wondering what have I gotten us into on the other. She explained that one of her goals in life is to become a trainer. She said that because of our proximity, she would love to work with Devin for the learning experience. Devin would benefit from her knowledge and experience and she would get to try her hand at teaching and training. Wow, now I was sold!

So with barely two months of work, Devin entered the Indiana Morgan Classic, June 26-28, 2003. She competed in Walk/Trot Western Pleasure, Walk/Trot Western Equitation and the Youth of the Year Competition. She finished 5th, 5th and 4th out of 5 entries. The picture I sent last week was from the Indiana Morgan Classic.

This past Sunday, July 6, 2003, she entered the Hamilton County Horseman's Club Open Show and competed in the 19 and under Youth Walk/Trot, any type class. She finished 2nd out of 4 entries. The picture I sent you (shown above) yesterday was from this show.

You probably know more about Amy's history than I do, but I'll list what I know and you can make whatever corrections and additions are appropriate. We purchased Amy from David Thurston of Greenfield, IN in September of 2001. Mr. Thurston had acquired her from Larry and Shirley Royster of Leonard, MI. Larry was showing his horses that year at the Regional Lippitt Morgan Show in KY., which Mr Thurston attended. Mr. Thurston was using her as a brood mare and pleasure horse. He and his family were involved in driving, and when he had the opportunity to purchase a matched pair, Amy was the odd horse out. She was the least trained, the least used and he needed her stall. I went to look at her and I could just see my daughter on her back. She was the perfect size. She was younger than what I was looking for, five at the time, but she had a wonderful disposition. I figured that she and Devin could grow and learn together. Mr. Thurston was hesitant to sell her to me because he knew that I intended to put my daughter on her. He told me over and over that she didn't know very much and hadn't had the training to be ready for a green rider. I rode her, and got along fine, but she pushed me. She took every opportunity to push the pace, and she was no neck reiner. I bought her anyway. She had potential. I could see what I wanted her to be, I just had to figure out how to get her there. Devin loved her from the first time she saw her. Devin has spent the past two years doing everything she can with that horse to develop a bond. she has lead her everywhere, brushed her, fed her, picked her hooves, braided her tail and mane, talked to her, I've even caught her singing to her. The two have really built a relationship. That bond was evident when the two of them began serious training this spring. Amy has learned the western walk and the western jog with Devin on her back. Devin's coach has told her what to do and the two of them have accomplished it together. We are still working on the western lope. Amy and Devin love to lope, but they are still to fast and Amy is still leading with her head up and nose out. They are looking better, but still not good enough for the show ring. A regular western pleasure class will have to be next year's goal. They are going to be quite the team for a lot of years. The beauty is that they are growing up and learning together just like I pictured. Devin doesn't have a push button horse, but what she has, she has made herself. I can't begin to relay the pride and the joy that is on my daughters face every time they accomplish something new. Every change is a celebration because Devin can see it and feel it as it's happening. I believe that Devin will be a better rider and horseman in the long run because of what she and Amy are going through now. Amy has done such a wonderful job taking care of my little girl too. She has a lot of patience and she has been very forgiving of Devin's errors. Devin has fallen off of her one time, and that was the first time she asked her to lope. Devin wasn't prepared for the gear change and lost her balance. Amy just did what she thought she was being asked to do - run. Everyone was fine, and now I have to get firm with her to make her stop running. They seem to be getting bored with the walk and the jog.

You'll know better next time, but you should never ask me to brag about my kids or my horses.

Bruce
---

SHOW: Liberty Classic United Horse Show ~ 2003
Horse: Pure Centrifugal Motion (Baroncrest Nuggeteer x Alert Ash Margarite Henry)
submitted by: Margie Hodge
location: Spring City, Tennessee

Mr. Mo. (Pure Centrifugal Motion) went to the Liberty Classic Horse Show on July 5th and 6th 2003. Roan State Campus is about 15 miles from the 100 Aker Wood Morgan Horse Farm, so we took four horses to compete with other Morgans, morabs, and Arabians. This year the show was also open to all breeds. Mr. Mo brought home his share of the blues. He was shown by Jessica Andreas, a former student of mine, in the halter class 4 and under. He got second place, which qualified him for the Championship. 100 Aker Wood Magnificent Misty also qualified with a first place. So we had a real scramble with back to back events ( 5 in a row) and one weary (me) handler to do all this. Phil was line director and doing an excellent job keeping track of event numbers and which horse was to be up next. Victor Stefanini, president of the Blue Ridge Morgan Horse Association, jumped right in and threw a halter on Misty and off we went to bring home the trophy. Mr. Mo also received a red ribbon in the Morgan Jr. Stallion Halter.

Also, Misty Mt Royal Myrah was ridden in the Morgan demonstration "bareback" with 5 other Morgans doing different diciplines.

Margie
---


Horse: Northway Shooting Star (Baroncrest Nuggeteer x Misty Mt. Ode to Joy )
submitted by: Janet Shostak
location: Kinuso, Alberta, Canada
"MAGGIE"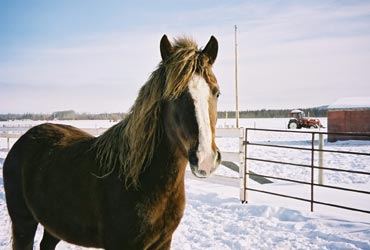 2001 filly, NORTHWAY SHOOTING STAR
Owned by Janet Shostak of Alberta, Canada



This Baron daughter truly is a dream come true for me. I have had her for just over a year now and she continues to steal my heart. Maggie is one beautiful filly, she has turned a dark or 'liver' chestnut and she has flaxen highlights in her wavy mane and tail. Her personality is not to be out done by her good looks.

Maggie is the most playful horse we have ever had, she will try to make a game out of almost everything. This can make training a bit of a challenge as I think of ways to keep her from getting bored during lesson time. Maggie does however like to be handled, she especially likes to nuzzle by putting her nose in the crook of your arm. More than one person has commented to us about how they've never been around a horse who almost seems to cuddle!

I am looking forward to the future when Maggie starts her under saddle training. Her movement is fluid and graceful. My future plans for her also include having her bred to just the right Lippitt Stallion. But I do believe that my greatest dream, of having a chestnut, full Lippitt Mare to have a relationship with, has already come true. I am thankful and grateful to the Lord for this answer to prayer, to the Brockways for allowing me to purchase her and their help in preparing her for her long journey and our hauler who was wonderful. My husband and daughter for not allowing me to give up on my dream and also for the Longs and their stallion Baron and what he passes on to his foals.
Janet
Kinuso, Alberta, Canada

---

June 2005 "Maggie" update

Hi Judy,
As promised, I just wanted to keep you posted on Maggie's training this summer. Once again this young Baron daughter is exceeding my expectations. For all her energy and playfullness our trainer describes her as very laid back and accepting of the whole process. No buck or antics at all under saddle, she has been very willing. Next week she will be ready to go out on the trails and begin more advanced maneuvers and bridle work. I'm sending a couple of pictures of her at the trainers, I can't wait to get her home in July and start my under saddle relationship with her. I'll send you more pics later this summer. Hope all is well with you and yours, Blessings to you all.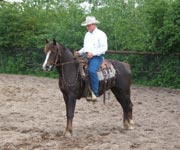 Jan Shostak



---

Horse:Pure Christine's Rosebud~ (Baroncrest Nuggeteer x Alert Ash Margarite Henry)
Owned by: Carol Dahlberg
location: Hesperia, CA
'ROSEBUD'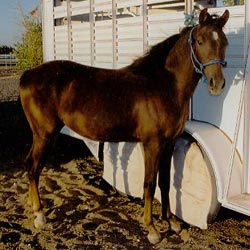 2003 filly, PURE CHRISTINE'S ROSEBUD
Owned by Carol Dahlberg, Hesperia, CA



5/5/04 Hi Judy,
Rosebud got her first experience being 'ponied' and really did quite well and really seemed to enjoy getting out on the trail. She is an awesome little girl and I am thrilled to own her. Or be owned BY her. I'm just not sure with these Lippitts.!!!!! Bye for now, Carol

6/24/04 Hi Judy,
Just wanted to touch base and let you know Rosebud is doing fine. She is fat and has settled in quite nicely. I have ponied her again and she is so calm about everything!!! Will try and get some pics to you sometime soon. We are planning on getting some computer help in the near future and are hoping to learn how to send pics better and only once!!!! I may do 35mm and snail mail them!!! I really love her and am glad I bought her!!! Hope you guys are all well. Bye for now, Carol

11/12/04 Hi Judy,
How are you guys? Just wanted to let you know that Rosebud is doing well and growing like a weed. I will be working with her today and am very pleased with her willing attitude. She is taller then her buddy, Sarah and promises to be a real beauty!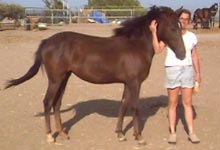 2/16/05 Hi Judy,
I worked with Rosebud yesterday and am amazed with her. She is smart and learns quickly and is getting quite an opinion of herself. It's cute really!!! She has grown an incredible coat this winter but is starting to shed it. I am still working on ground stuff and some round pen and whoa stuff. She has been saddled and bridled and is getting used to rocks shook in a can, plastic bags, and a tire being drug around. Doesn't phase her. She is spirited and likes to GO. I am quite pleased with her. I hope to have my website up soon. It will be www.Smoketreemorgans.com. Hope you are all well!!!! Carol





---

Horse: Pure Homer's Hallmark ~ (Baroncrest Nuggeteer x Alert Ash Margarite Henry)
Owned by: Amy Jennings
location: Orient, Ohio
'HOMER'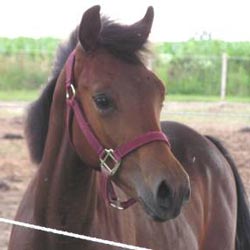 2003 colt, PURE HOMER'S HALLMARK
Owned by Amy Jennings, Orient, OH


"Homer's New Home"

2/20/05 I just sat down to write you. I have been out in the barn most of the evening. He is so good!!!!!!!! I went in and played with him a little, then fed, and then picked his stall, then of course I had to pet him some more. He goes in one area of his stall, I love that! My other two I think go in one area but then drag it all around. He seems so comfortable, it's amazing.

Last night he unloaded really well and walked back to the barn with me no problem. I expected him to be a little spooky because everything is new but nothing. He looked really hard at a pile of wood but that was the most excitement I got. I wish it would have been daylight because I would have loved to videotape his arrival.

He rolled in the shavings several times after checking out the place. He and Rain are buddies. They sniffed each other through the boards and he did the little mouth chomping thing. Rain would run out and grab a bite of hay and then run back in to stand with him (they have spaces at the top half of the stall that they can see each other and sniff).

I didn't get to get him out because it is raining but I am hoping that tomorrow will be clear. If nothing else I will take him for a walk just to get him out.

I can't tell you how thrilled I am with him. He is even more than I dreamed of. He will be loved very much!!!!!!!! Thank you. I will send pics soon. Speaking of pics I would love to see some Baron baby pics since we forgot to do that yesterday, if you get the chance. Mary showed her boyfriend the pics she took when she got home and he thought the horse were all beautiful, especially Baron. Guess he got a lot of ooohhs and aaahhhs!
Amy