Our Lippitt Morgans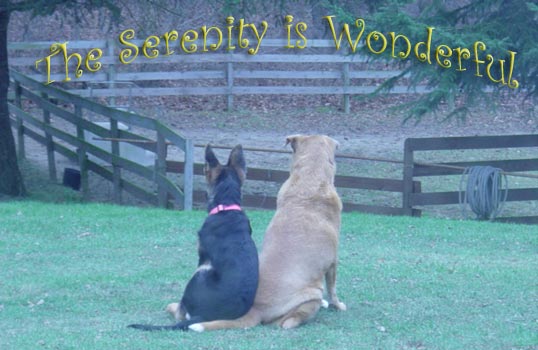 Our family includes ~ Two growing teen age boys, the oldest earning the rank of Eagle Scout, we are so proud of him, with his younger brother earning his last 4 badges toward his Eagle ranking. Our 5 dogs include ~ the oldest being "Bud" a black lab, which we found abandoned, (as a puppy) one snowy February afternoon. Second, third and 4th are our female German Shepherds "Hannah", "Brit" and "Kendra" and Bear, our future stud muffin for the female shepherds, they all can be seen, with puppies (2-3 litters a year) on our GSD page of this website, 1 cat named "Sable" and last but not least 2 Lippitt Morgans, Baron and Ruby.

Our little family lives in a cozy home, completely surrounded, with State land. The serenity is wonderful, the riding trails go on and on and on. We enjoy the peacefulness of our surroundings and the excitement of an occasional Red Wings Hockey game. The man of the house that keeps it all flowing is my husband Jim. He works very hard to keep us all happy and healthy. Working a full time job and being a wonderful husband and a great dad, takes a lot of focus and humor too! Our little piece of heaven on earth, right here in Highland, Michigan.


| | |
| --- | --- |
| Baroncrest Nuggeteer | Alert Ash Margarite Henry, aka "Ruby" |


We've raised our Stallion "Baroncrest Nuggeteer" aka "Baron" and our foundation mare "Alert Ash Margarite Henry" aka "Ruby" with TLC and appreciation for the Original Look, Characteristics and Style of "Figure", Justin Morgan's stallion.

Baron's pedigree speaks of purity and pride of his Morgan Heritage. Baron has an impressive 23.44% of Figures blood running through his veins.

In our search for the ultimate stud colt, we lucked upon a little bay cutie. We took a chance and purchased Baron at 6 weeks of age - hopefully this little fella would follow in his sire's footsteps and grow into a handsome stallion with correct conformation and a "look-at-me, I'm special" personality. Along with his dam's motion and body.

Baron has been a joy to raise and own. He has well exceeded our expectations of what a Morgan should be. He has matured into a handsome, intelligent, well-mannered stallion and sire, with beauty, gentleness and style. Sharing with his foals, his lovable and willing personality, excellent legs and that something special ~ "Look At Me" attitude.



Ruby excels at being a mom. She produces knockout gorgeous foals. With a little help from their sire "Baron", Ruby won the Mare and foal class at the 1998 CRLS with Pure Rose of Ruby at her side.

In '98 Ruby had a stunning bay colt, Pure Nuggeteer's Standard. "Stanley" is a carbon copy of his daddy in body type; very up-headed, exhibiting a natural-proud "Look-at me" stance. "Stanley" now resides in Ontario, Canada as a junior stallion in a Morgan breeding program.

Pictured with her at the left is Pure Christine's Rosebud. See more photos of this filly at her page.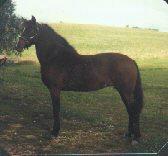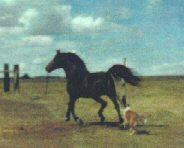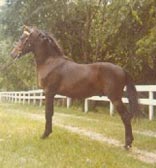 Baron, would like to fondly remember his dam Wachuset Jezebel, (above, left) who has passed away. Ruby would like to pay tribute to her sire, Edgewood Hallmark (above, center and right) who passed away in 1997.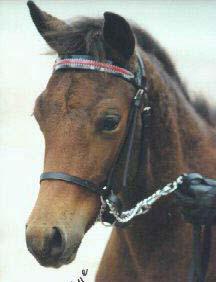 Baron's photos and pedigree / Ruby's photos and pedigree
Baron has also been exhibited at "The North American Horse Spectacular" (an annual, local event) for the past 5 years. Where he is known as the "kid magnet", come see him every November in Novi, Michigan! (Expo website)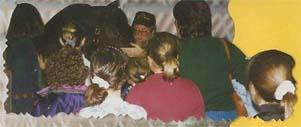 Home